AAA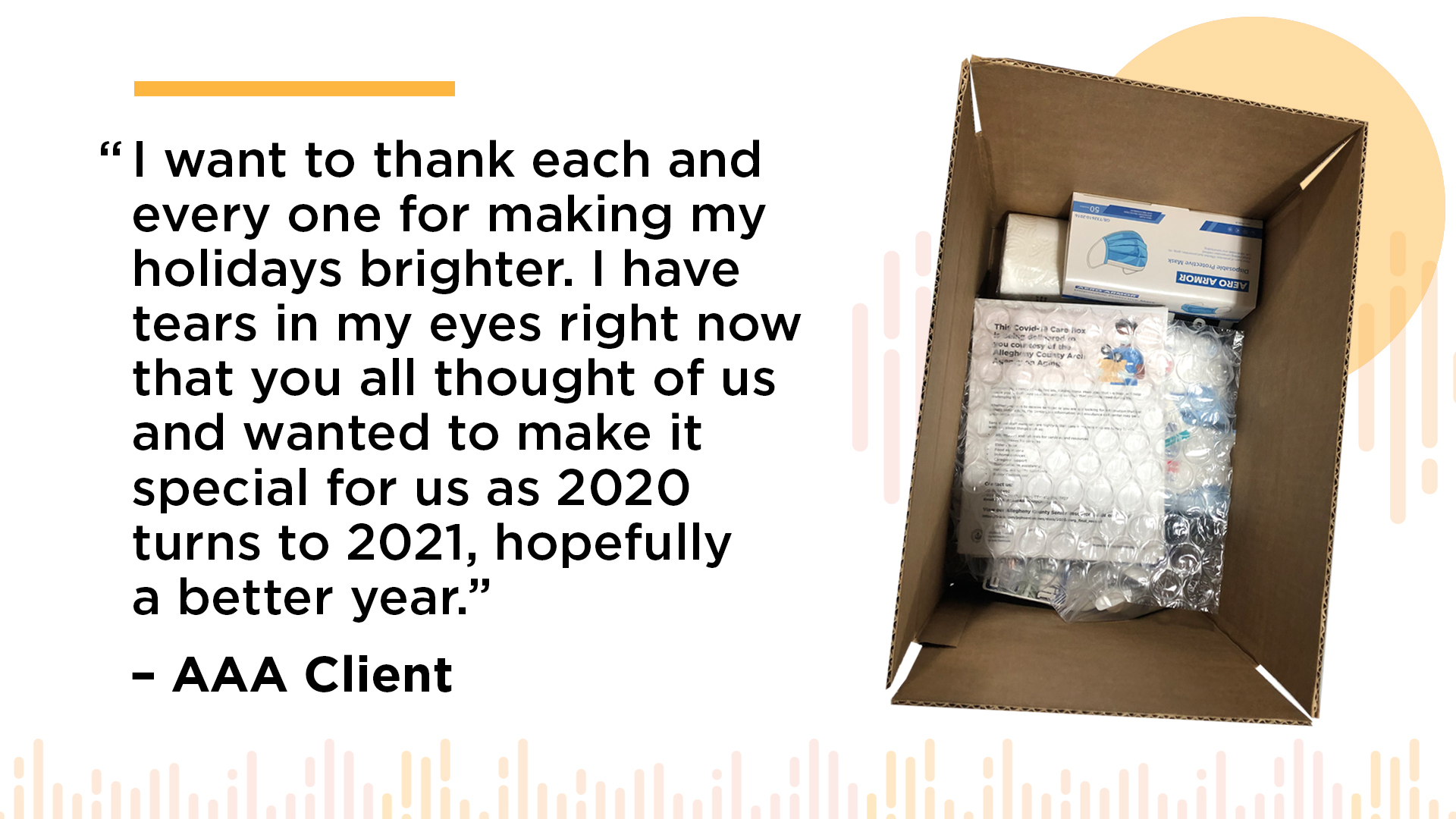 In December, more than 9,000 Allegheny County Area Agency on Aging (AAA) consumers received a surprise in the mail: a care package sent by AAA. The packages were funded by the County's coronavirus relief fund (CRF) which was created by the federal CARES Act.
Each package contained essential supplies and COVID-related items such as sanitizer, hand cream, lip balm, disinfectant wipes, paper products, masks, a first aid kit and a digital thermometer. Seniors also received a flyer with information on how to prevent the spread of coronavirus through proper mask wearing and hand-washing. Another flyer encouraged seniors to contact the Seniorline to access services or address concerns.
The care packages were assembled and mailed by LifesWork PA, a nonprofit organization that offers meaningful employment to people with disabilities.
Once boxes were distributed, AAA began receiving calls from people in the larger senior community who wanted to request a care package of their own. Knowing that this was a valuable outreach opportunity given the necessary supplies and important information contained in the care packages, AAA worked with other DHS staff members to make sure that the 34 individuals who requested a box were able to receive one.
Quotes from AAA consumers:
I want to thank you all at the Agency on Aging for the surprise gift in the mail! It was a lot of fun to see a surprise on the porch, to open it and to go through all the goodies in the box. The items will really come in handy in our fight against Covid-19 and I laughed to see the toilet paper. It isn't really needed in the fight against the pandemic, but is certainly sometimes hard to find.
I am really lucky, in that I can get out still, occasionally to shop, that my son does a lot of 'power shopping' for me and, more importantly, I can afford to shop. I am sure this gift will mean more to those that are less advantaged than I.
I know this was a result of the efforts of many people. The one who came up with the idea, the one who found a way to procure all the items, the many people who packed all the items, and made sure that every box contained the correct items. I can imagine all the hard work entailed in getting them shipped!
I want to thank each and every one for making my holidays brighter. I have tears in my eyes right now that you all thought of us and wanted to make it special for us as 2020 turns to 2021, hopefully a better year.
Quote from LifesWork PA staff:
We have been getting people call us about every 5 minutes from the return address label thanking us on the boxes and saying how much they are appreciated as well as much needed.
Quote from SeniorLine staff:
Just to let you all know that the past few days on the phone, I've gotten quite a few thank you calls from people who have received their COVID Care boxes. They are so happy that someone thought of them!