Wellness
Click on the image below to scroll to one of the categories. Then, click one of the documents below each category to open/download/save it.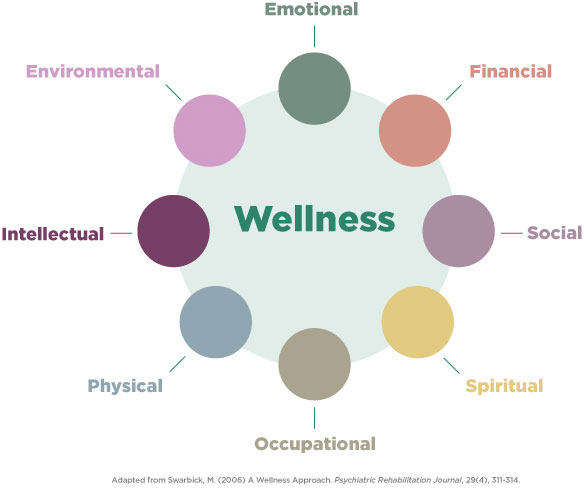 Emotional Wellness
Emotional Wellness includes the ability to express feelings, adjust to emotional challenges, cope with life's stressors and enjoy life (SAMHSA, 2016).
Don't forget… if you're struggling, it's OK to ask for help!
Here are a few strategies that can help us build and maintain our emotional wellness:
Find a time to talk with friends and family and share how you are feeling.
Do your best to get sufficient and consistent sleep, as well as regular physical activity.
Limit consumption of social media, local and national news if you are overwhelmed, and make sure information you are consuming is from reputable sources such as the CDC or your local healthcare provider.
Practice daily reflections to help ground you in a mindset of positivity and resilience, for example:

What are three things that made you smile today?
What is one thing you feel gratitude for in this moment?
Who comes to mind when you think of the word compassion? What is it about this person that brings them to mind?

Mindful breathing practices can help you calm your thoughts, slow your heart rate, regulate your stress response and enhance your ability to focus! See the resource below for a guide to "Box Breathing".
Here are a few places you can reach out if you're looking for some help:
The National Disaster Distress Helpline is available to anyone experiencing emotional distress related to Covid-19.

Call 1-800-985-5990 or text TalkWithUs to 66746 to speak with a caring counselor.

resolve Crisis Services is a free 24-hours mental health crisis service. Call anytime to speak with a trained clinician.

1-888-7-YOU-CAN (796-8226). For more information and non-urgent matters, contact 412-864-5004 or resolve@upmc.edu

Your organization's EAP:

Allegheny County: Life Solutions

www.lifesolutionsforyou.com or call  1-800-647-3327

Great Lakes/DCM: Lincoln Financial Employee Connect

www.lincoln4benefits.com or 1-888-628-4824

Donnelly Boland: Life Solutions

www.lifesolutionsforyou.com or call 1-800-647-3327
Steering Ourselves and Those We Serve Through New and Developing Traumas: 
Renowned trauma researcher Bessel van der Kolk addresses the challenges presented by our current circumstances and provides strategies for maintaining wellness in this video presentation.
Box Breath Technique




Box Breathing can help you calm your thoughts, slow your heart rate, regulate your stress response, and enhance your ability to focus. See the attachment for a guide on how to use this simple technique!

Download
Back to Top
---
Financial Wellness
A healthy financial practice involves taking steps to live within your financial means by thinking short- and long-term when managing your financial resources. This can be done by creating a realistic budget that accounts for routine expenses and sets aside a portion of earnings to handle unpredicted expenses and retirement.
Taking control of your financial wellness promotes knowledge, independence, responsibility and awareness of planned and unplanned costs. By gaining an understanding of your current and future financial situation, you will be better prepared to handle loans, taxes, debts and retirement. This week we've provided some resources to help you along your financial wellness journey.
Avoid COVID-related financial harm
There are a number of steps employees can take to help protect themselves or their loved ones financially, in both the short- and long-terms, from the impact of the coronavirus. Check them out here.
Undo COVID-related financial harm
If you or your loved ones have been impacted financially by the pandemic, there are several places you can go for assistance. Find some of those resources here.
Manage and grow your money
Making the most of your finances starts with five building blocks for managing and growing your money — The My Money Five. Keep these five principles in mind as you make day-to-day decisions and plan your financial goals.
Perform financial alchemy 
Be proactive and identify your financial weaknesses and turn them into strengths by following the simple steps outlined here.
Learn about financial tools and strategies
Check out Behind on bills? Start with one step.This hands-on workbook has tools and practical strategies to help you build confidence to manage income and expenses. It is designed to help you handle money emergencies, cut down on stress from mounting bills and build your finances to where you want them to be.
Start early
It is never too early to start learning about financial wellness. There are many activities online to help teach children about the importance of financial literacy. Find some here.
Back to Top
---
Social Wellness
Humans are inherently social beings. Priya Parker, author of the book, The Art of Gathering: How We Meet and Why It Matters, notes that social contact and being together in public spaces are elements that contribute to our collective sense of well-being. However, achieving social wellness today may feel challenging when we are also practicing social distancing. Our temporary inability to gather in schools, places, of worship, sports arenas, etc. is adding to our collective stress and feelings of isolation. Therefore, to maintain our social wellness – while social distancing – we may need to try some new strategies to make and maintain connections:
Continue to celebrate milestones such as birthdays, holidays and special events through technology. Skype, Zoom, Teams, Facetime, etc. are excellent resources that we now have to gather while we are apart.
Consider starting a virtual group focused on a specific activity such as reading, playing games, creating a weekly craft, holding a happy hour or sharing progress on household projects. Some apps to help you get started can be found here.
Join your local community group on Facebook or NextDoor for insight about your surroundings and to engage in group conversations with neighbors.
Don't forget that your phone can be used for more than texting – calling friends and loved ones and hearing real voices can go a long way.
It may sound old-fashioned, but consider writing and sending a handwritten letter to connect with someone and give them an unexpected boost for the day.
Movie theaters may be closed, but that doesn't mean you can't watch your favorite movies with others. Check out this list of apps that allow you to sync a movie together.
Personal-Connection




Foster connections during the workday by starting virtual meetings with one of the attached prompts provided by the DHS Office of Equity and Inclusion and their partner, Civity!

Download
Back to Top
---
Spiritual Wellness
Spiritual wellness is the sense of being connected to something greater than yourself. It includes having a set of values, principles, morals and beliefs that provide a sense of purpose and meaning to life and then using those principles to guide your actions. For many, religion or faith is the path to spiritual wellness. For others, connecting to nature, community or to ones' self is the path. There is not just one way to foster spiritual wellness.
One of the most beautiful aspects of cultivating spiritual wellness is that you don't need anything special to do it and no specific place where it has to be done. When you practice spiritual self-care, you are nourishing your soul, you are striving for inner peace and you are seeking to find purpose and meaning in life. This week we provide some ways you can cultivate and nurture your spiritual connection.
Be Curious
Look for deeper meaning. Take some time to ask, and sit with, the perennial questions: Who am I? What is it that gives my life meaning and purpose? What do I value most? Do my values guide my decisions and actions? Sit in the questions themselves and listen. By being curious about your spiritual core, you are simply asking yourself questions about the person you are and your meaning. These questions may lead you down a path to thinking more in-depth about yourself and allow you to notice things about yourself that will help you achieve fulfillment. For ways to explore your spiritual core during this challenging time, check out the Spirituality and Practice website.
Be Grateful
Sometimes it's difficult to find gratitude in times of fear and stress. But science tells us that the more we can identify the positives in our life and the more we can name the things we are most grateful for, the easier we will be able to recognize them in the future. Gratitude connects us to one another in profound ways. Consider keeping a gratitude journal or gratitude jar. Your emotions are deeply entwined with your spirituality. Show gratitude every day, even for the things we may take for granted. When you increase feelings of optimism, then you'll see the world as a better place and have the potential to spread joy to those around you. Check out Benefits of Thinking Positively, and How to Do It.
Be Engaged
Sometimes it helps to connect outside yourself to stay connected to your self.  Even in this time of physical distancing and stay-at-home orders, you can still connect with others safely and sometimes even from the comfort of your own home. Find a way to volunteer or be of service to others, consider donating to a cause you believe in, learn about another country or culture and build your capacity for cultural humility. A fun way to get engaged during this pandemic is consider going on a virtual vacation. Skeptical? It's true! Taking time for yourself to learn new things, immerse yourself in art and music or travel to a comforting place or somewhere new can wonders. Here are some suggestions for your next virtual vacation.
Be Open to Expressing Yourself
Get it out. Journal, draw, paint, sing, dance – express yourself. Expressing what is on your mind will help you to maintain a focused mind. After a long day or a significant event, you may feel confused and not be able to make sense of your feelings. By writing down your thoughts, creating a piece of artwork and singing and dancing to music that bring you joy, you may be able to think clearer and move forward.
Be in Flow
Movement can be a very important part to maintaining spiritual wellness. Sit quietly, feel your breath, feel the beating of your own heart. The body is not still, it is always in a rhythmic dance. Want to move more and also improve your spiritual wellness? Try yoga. Yoga is a physical technique that can help improve your spiritual wellness by reducing emotional and physical strains on your mind and body. Yoga is taught at all different levels and can help lower stress, boost the immune system and lower blood pressure as well as reduce anxiety, depression, fatigue, and insomnia.  Or maybe consider doing some walking meditation or learning Qigong or Tai Chi.
Be Quiet
It's so easy to get caught up in the sense of urgency to produce, produce, produce and the ready access to technology makes it so hard to step away and take a break. But whether you pray, meditate, spend time in nature – take some time for stillness to connect with that deeper part of yourself.
Bask in the restorative power of silence. If meditation is new to you, or you've been practicing for years, there are an abundance of options out there to build or continue a practice. Consider downloading the Calm App or Insight Timer for easy access to a variety of meditation practices.
Breathe
"Perhaps the most 'spiritual' thing any of us can do is simply to look through our own eyes, see with the eyes of wholeness and act with integrity and kindness." 
~ Jon Kabat-Zinn
Back to Top
---
Occupational Wellness
Occupational wellness is your ability to maximize your workplace happiness by focusing on work that brings you a sense of satisfaction, accomplishment and even joy.
This sense of occupational wellness is challenging for many of us right now as we adapt to new ways of working and interacting remotely. It is completely natural that the disruption in our daily work habits have added to the anxiety and stress we may feel.  This week, you'll find helpful hints to get through these challenging times with your good humor intact.
Virtual meetings
If you find yourself exhausted at the end of a day filled with Teams or Zoom meetings, you are not alone. Check out these tips to better understand and combat "screen fatigue." Also, you can add some fun to your next virtual meeting with a virtual meeting BINGO card.
Avoid burnout
Managing from a distance
If you are a supervisor, be sure to talk to your staff about stress and burnout. Encourage stress-relief breaks to improve occupational wellness.
Review the attachment below for tips on how to manage a team remotely.
Lifelong learning
Benefits of Mentorship
Do you currently have a mentor in your life? If not, would you like to have one? Connecting with a work mentor can be a great way to manage stress, stay positive and plan for the future. The attached handout provides information on the types of mentors to have in your life.
Working from home
Check the handout below for general tips on improving home office ergonomics, motivating yourself to move and take breaks and appreciating the humor that exists during this time.
Five People to Have in Your Mentor Network




This handout provides information on five different types of mentors to help you manage stress, stay positive and plan for the future.

Download

Managing a Team Remotely




This handout provides tips for managing a team while working remotely.

Download

Work from Home Tips




These slides provide general tips on improving your home office ergonomics, motivating yourself to take breaks and move and appreciating the humor that exists during this time.

Download
Back to Top
---
Physical Wellness
Maintaining physical wellness relies on restful sleep, a nutritious diet and physical activity. The importance of staying physically well only increases during a community health emergency. But the unprecedented stressors, stay-at-home restrictions and ominous health risks of our current pandemic can make maintaining our physical wellness more challenging than ever. Here are some strategies for promoting physical wellness during these unique and difficult times:
Back to Top
---
Intellectual Wellness
Intellectual wellness involves engaging in creative and mentally stimulating activities, learning and skills-building and expanding and sharing your knowledge with others.
Research has shown that the benefits of intellectual pursuits are many and include the ability to reduce your stress and anxiety, engage a different part of your brain and maintain your cognitive abilities as you age.
"The mind is not a vessel to be filled, but a fire to be kindled."
― Plutarch
There are many opportunities to engage in remote learning and skills-building activities, or to pick up a new hobby to enhance your intellectual wellness. However, you may find it daunting to do so. One strategy to fit new intellectual explorations into your daily routine is to schedule the time to do so, just as you would for a meeting at work, even if it is just one or two hours per week. This way, you will be more likely to commit to taking time for yourself to pursue a new activity.
In this time of Covid-19, there are many resources and ideas for enhancing intellectual wellness online. Below are some of the best we've found to get you started. But remember, not all intellectual pursuits are on a screen. A balanced approach to wellness is best, so don't forget that listening to music, reading, playing board games, and doing puzzles also help you to achieve intellectual wellness.
Read to your heart's content
Ponder over puzzles

No space to store jigsaw puzzles? This online resource will keep you busy for hours.
Also check out this free puzzle site to find free crossword and sudoku puzzles.
Back to Top
---
Environmental Wellness
Environmental wellness focuses on our ability to attain good health by occupying pleasant, safe and stimulating environments that support well-being.
Your environment includes social and natural surroundings in your home, workspace and community and can greatly impact how you feel. You can't always choose what's in the environments in which you live, work or play, but taking small steps to make your environments safer and limiting your exposure to potentially harmful elements  can help keep you healthier. Ways to manage environmental wellness at home include planting a personal or community garden, recycling, purchasing products with minimal packaging and conserving utilities by adjusting thermostats and turning off lights and water when not in use. Improving environmental wellness in your workspace might be as simple as displaying a photo you love. Below, you'll find some ideas to make some changes to your current environment both inside and outside your home.
Engage Your Green Thumb
Interested in growing your own vegetables or some flowers to support bees and butterflies? Community gardens, indoor gardens and container gardens offer a wide variety of ways to get something growing.
Visit Grow Pittsburgh to learn about community gardening in the Pittsburgh region, from creating a new community garden to participating in an existing community garden.
Visit Apartment Gardening for Beginners if you don't have access to a yard or community garden, but still want to experience the positive nature of nature.
Visit Container Gardening for Beginners if your yard's soil is less than ideal but you have a healthy appetite for homegrown.
Clear Out Your Space
Cleaning and decluttering your home space is beneficial on two levels. It improves your environment and offers your "clutter" to people who will put it to good use. Donations are welcomed at organizations like
Consider recycling items that cannot be donated.
Create Work/Home Boundaries
Working remotely from home can be a challenge when your personal and work spaces are blurred. When your computer and files are always in sight, and the work is there, it may be hard to know when to stop. If you find the line between work and life getting thinner and thinner, it may be time to make a few simple changes.
Get Away From It All
Did you have spring and summer plans that you've had to change due to the pandemic? There are still safe ways to broaden your horizons.
Satisfy your urge to travel by taking a virtual tour of several scenic and historical national parks
These 12 famous museums offer virtual tours you can enjoy from your couch.
Tired of being cooped up in your house? Connect with nature in your community by exploring one of Pittsburgh's many trails and parks. Remember to maintain safe distances and wear a mask to protect yourself and others.
Back to Top
---
Adaptive Wellness
March Wellness
As we come upon a year anniversary of when life changed due to COVID, it is important to remember that your wellness and self-care is just as important now as it was a year ago. We have been through many uncertainties due to the pandemic, the cold winter months of January and February, and the stress and anxieties of political and racial injustices throughout the nation.
With March comes the promise of Spring, more hours of daylight, warmer weather, and opportunities to  safely spend time outdoors. It is also a good time to do a self-check; are you operating at a full battery, down a few bars, or completely drained? Whatever feelings you are experiencing; it is ok. Each person responds to stress and anxiety differently.
Since late December, the release of COVID-19 vaccines has been a major development in combatting the virus. While this is a major step, it too can create questions, uncertainty, or confusion.  Accurate and reliable information is one of the best ways to manage stress and anxiety. Make sure that you look for credible sources of information about COVID & COVID Vaccines. The CDC, the PA Department of Health and the Allegheny County Health Department are great resources to check out.
Let's revisit some strategies and practices that support your emotional and physical wellness:
Stay connected—even when physically isolated. Reach out to friends and family for support, conversation, laughter.
Practice relaxation or mindfulness through meditation, journaling, yoga and breathing exercises
Take time out for exercise or activities that you enjoy
As it warms up, go out in nature, talk a walk in your neighborhood, sit out in the sun
Get plenty of rest – sleep will often be disrupted when anxious or stressed
Eat healthy and nutritious meals
Taking time out for yourself – saying NO when you need a break to recharge
Take breaks from watching, reading, or listening to news stories
Check out Action for Happiness for creative activities and resources
Try a 30-day Self-Care challenge like the Mindfulness March Calendar
Celebrating Safely
"Skipping large family and friend gatherings during the 2020 holiday season might ensure you get to see those same family and friends in 2021."
Functioning safely during the 2020 COVID-19 pandemic continues to present major challenges. But, with a rapid rise in the number of cases nationally and in our state, the challenges ahead during the holiday season will make our work so far seem like child's play.
In addition to strictly adhering to mask-wearing, social distancing and hand-washing, the major challenge around the holidays will be to break traditions and choose either not to gather or to gather in much smaller groups and only after isolating in advance.
The Center for Disease Control offers IMPORTANT guidance if your plans involve indoor activities with people who live outside your household.
Quarantine or strictly avoid contact with people outside your home for two weeks prior to the gathering. 'Avoiding contact' includes:
being vigilant about wearing a mask at all times in public, indoors and outdoors,
washing your hands before touching anything in your home after being in public,
and staying at least six feet away from anyone who does not live in your household.
Get tested for COVID. Test results are most reliable if you tested five to seven days after your last exposure to someone outside of your household. But tests are not perfect. Many return a false negative. Care must still be taken if gathering indoors. Masks, distance and hand washing are still critical.
Be prepared to graciously cancel or change your plans depending on the situation, keeping the health of your host or guests as your highest priority.
All season long, the CDC also strongly recommends avoiding crowded indoor and outdoor public venues such as parades, sporting events and shopping malls.
Additional Resources
COVID updates
PA News  Keep up-to-date with the most current orders issued by the PA Health Department related to COVID safety.
For your mental health
Emerson Hospital – Keeping the holidays bright
CDC Guidance
Enjoying the Autumn Safely
The chill in the air and changing foliage mean it is time to say goodbye to summer and welcome autumn, a season full of festive activities and gatherings. Even though COVID-19 has changed many things this year, it doesn't have to stop us from enjoying our beloved fall traditions – as long as we take extra precautions.
Outdoor Activities
Pumpkin patches, haunted houses, hayrides and apple picking are fall favorites, but they often involve close interaction with others. You can make these activities safer by:
Contacting the venue beforehand to learn about their distancing, capacity and cleaning guidelines.
Visiting during off-peak hours.
Leaving if you notice protocols not being followed.
You may also want to think of new ways to enjoy the beautiful fall weather, such as taking a walk through a local park, going on a drive to enjoy the changing leaves or hosting a faux tailgate in your yard for members of your household.
Halloween
Halloween fun doesn't have to stop because of COVID-19. The CDC has categorized several Halloween activities – including decorating a home or room, carving pumpkins, and holding a virtual costume contest or scavenger hunt – as lower risk; however, trick-or-treating from house to house is a little riskier. If your family will be participating in trick-or-treating this year, consider:
Placing individually wrapped goodie bags somewhere that trick-or-treaters can grab and go, such as the end of a driveway or edge of a yard.
Researching the trick-or-treat plans for your community.
Only trick-or-treating with members of your household.
Hosting and Attending Gatherings
Autumn is typically a time of gathering with friends and family, and these events can still happen with a bit of planning and creativity.
If you are hosting a gathering:
Follow the CDC's tips for hosting gatherings.
Try to hold the event outdoors. If that is not possible, make sure your guests can stay in a space that is well-ventilated, partially open and not crowded. You can also open doors and windows, if the weather permits.
Consider asking any guests from outside of your household to avoid contact with others for 14 days prior to the event.
If you are attending a gathering:
Check with the event host to learn about their plans to prevent the spread of the COVID-19 virus.
Bring supplies to help keep you and others safe, such as extra unused masks, tissues and hand sanitizer.
Consider avoiding contact with people outside of your household for 14 days prior to the event.
General Recommendations
Regardless of the activities you participate in this fall, it's important to continue following CDC guidelines such as maintaining physical distance, wearing a mask, washing your hands or using hand sanitizer if soap and water are not available, and getting tested if you think you have symptoms. By taking a few extra steps, you can make sure that this fall season is not only safe but also filled with fun!
Resources
COVID-19: How to Safely Enjoy Fall Activities (link: https://health.clevelandclinic.org/covid-19-how-to-safely-enjoy-fall-activities)
Holiday Celebrations (link: https://www.cdc.gov/coronavirus/2019-ncov/daily-life-coping/holidays.html)
WHETHER AND HOW TO TRAVEL SAFELY DURING A PANDEMIC
The safest strategy to stay healthy during a pandemic is to limit your time out of the house to essential excursions. If "essential" travel to your family includes more than just trips to the grocery or doctor visits, there are some guidelines you can follow to minimize the inherent risks and mitigate the unknowns.
Before You Go
Ask yourself:
Are COVID-19 cases increasing where you're going or at any places you'll need to stop along your route? Track the changes in the local numbers for your route and destination via Johns Hopkins COVID-19 dashboard. Just click on the appropriate counties on the map to see detailed information.
Is COVID-19 spreading in your own community? You or a traveling companion could be an asymptomatic carrier, so even if you don't have symptoms now, you could spread it.
Will you or those you are traveling with need to be unmasked and closer than six feet of each/others during or after your trip?
Are you or those you are traveling with at higher risk to get very ill from COVID-19?
What if someone in your party tests positive? What plans are in place to get that person home?
Do you live with someone who is more likely to get very ill, even if they are not traveling with you?
If you get sick, how long will you have to miss work or school?
What are Allegheny County's rules about post-travel quarantines?
Making plans:
Ask about options for contactless check-in/payments and mobile room keys.
Ask if masks are mandatory for all staff and guests.
Ask about extra prevention strategies, such as plexiglass barriers at check-in counters.
Ask about updated cleaning and disinfecting policies or removal of frequently touched items such as pens, phones, business center computers and ice/vending machines
While You're Traveling:
Clean your hands often, and especially after touching anything that's a high-touch surface such as door handles, remotes, light switches, room phones, safes, ATM buttons and bathroom fixtures. Use soap and water if available. Use hand sanitizer containing alcohol as a second choice.
Wear a mask.
Avoid close contact with others.
Avoid touching your face.
Take the stairs, not elevators.
Avoid areas where people may congregate such as the lobby, pool, patio, game room or fitness center.
Assure yourself the area is clean by doing your own cleaning. The full list of EPA-approved cleaning materials to eradicate the COVID-19 virus can be found here. A few common ones include: Arm & Hammer Essentials Disinfecting Wipes, Clorox Disinfecting Wipes, Clorox Disinfecting Bathroom Cleaner, Fantastik All-Purpose Cleaner, Lysol All Purpose Cleaner, Lysol Disinfecting Spray, Lysol Disinfecting Wipes, Oxy-Team Disinfectant Cleaner. 
When You Get Home:
Follow the Pennsylvania Department of Health Quarantine guidelines. This is recommended behavior for anyone who has traveled, regardless of presence of symptoms. This is especially important if you have traveled to/passed through a state with a high number of cases, which are listed at the link above.
Safe Summer Adventures:
Looking for a safe and fun summer adventure? Check out the links below for some local destinations!
One Day Outings
Local Fun
Book a Picnic: Started by two social workers, "Blankets and Boards" provides fun, outdoor experiences for friends to come together and indulge with a fancy picnic. Sunday brunch, evening and lunch time picnics!
Evening Excursions
Movies in the Park
Note that both Hartwood Acres and South Park have both Family and Date Night movies (adults only) while Boyce Park is only offering Family movies
Drive-in Movies
EDUCATION, A RETURN TO SCHOOL
The 2020-21 school year is nearly upon us. Nobody yet knows what it will look like and nobody including school boards, superintendents or parents have been through this before.  If you're feeling overwhelmed or unsure about the decisions you're making for your children and their education, you are not alone. Adapting to these uncertain times requires research, thought and planning. The following tips may help guide you on your way.
For parents
Related to your children
Have a calm, fact-based conversation with your child about the advantages and disadvantages of in-classroom and on-line-learning options. Listen to their concerns. Validate their opinions. Dispel any unfounded fears by providing facts to support the contrary.
Arrange for each person in your family to get a flu shot.
Call your child's pediatrician to make sure your children are up to date with vaccinations
Sit down with your children to figure out any online learning technology together.
Related to your work
Discuss flexible hours or work-from-home options with your employer to accommodate the educational and childcare needs of your children.
Consider off-setting your missed in-office work hours with a colleague's to make sure in-office work is accomplished without delay.
Related to your child's school
Review the safety standards that mandate how PA school districts will keep your children safe during classroom learning.
Visit your neighborhood's social media page to see if other parents are coordinating efforts for childcare and on-line learning. Consider how your family can benefit by bartering your time and talents.
Promptly read every piece of information you get from your child's school. Information is changing frequently. You need to know the most current.
Create or ask for a list of teachers, school administrators and their contact information so you know who to contact for help. Visit the contact page on the website of your child's school district to track down this information.
For children
Seeing is believing. Watch this video that shows the importance of following the four COVID-prevention rules.
Teach your child about how social distancing works and why it's important
Explain why using soap is important
Learn, teach and watch children as they practice good hand-washing skills
Demonstrate the correct way to wear and remove a face mask and get your child accustomed to wearing one and removing it safely.
Remind your child that COVID is not the only reason people cough or sneeze. Practicing socially distancing, proper hand washing, refraining from touching your face, and proper use of masks combine to protect everyone from spreading COVID and other viruses.
Education Law Center Resources and information to support all students during these uncertain times
School Choice
Options
Parents in Pennsylvania can choose from several school options to meet the educational requirements of the state. Visit the PA Department of Education website to learn more about each type.
Childcare and early learning
Public schools
As of August 1, public school districts have the authority to decide how education for the 2020-21 school year will be provided to students who live within the district's geographical borders. Learn more
Children who are homeless or living in foster care may be eligible to attend public schools if they live around 'school district boundaries.'
Public Allies has a list of education plans for each school district in Allegheny County that is updated weekly.
Charter/Cyber-charter schools
Charter schools are specialized public schools that set eligibility guidelines and have enrollment limits. Applications for enrollment can be found on each school's website. Charter schools are paid for by the family's school district so education and transportation to them are free to the family. Learn more
Private schools
Parents pay out of pocket for private school education. Scholarships and financial aid may be available. Learn more
Homeschooling and private tutoring
Parents take on the responsibility to teach or have their children taught at home. Learn more
What to consider when choosing a school option and learning program for your child
School option considerations
Cost and availability of financial aid, if needed
Possibility of enrollment
Interest in continuing to be a part of the local school district

Children who do not attend their local public school are still eligible to participate in sports within their local school district.

Special education needs/stipulations of the IEP
Learning program considerations
Any special vulnerabilities your family has that risk a severe case of COVID
Considerations based on potential exposure to or from others
Child's ability to follow prevention behaviors while at school
Child's developmental ability to do some type of online or virtual learning
Parent availability to learn the technology and assist child while learning at home
Tech help desks
Parents and students may have difficulty with understanding technology required to successful complete learning and assignments from home. Ask your child's school for help first to resolve any technology concerns. Community Help Desks are available if you need them.
Carnegie Library Digital Skills Help Desk, training on basic computer skills, available via on-line, phone or text to 412-775-3900.
Community Technology Help Desk Staffed by volunteers at the University of Pittsburgh. General hours are 9:00 am to 5:00 pm but depend on volunteer availability.
REDUCING STRESS DURING COVID-19: HOW TO ENGAGE AND ENCOURAGE OTHERS. HOW TO SOOTHE OURSELVES.
Engage and Encourage Others 
Watching the COVID numbers climb again in Allegheny County has added another layer of stress to an already stressful situation. One recourse to combat that stress is to do our part and avoid the behaviors that lead to the virus's spread. In that way, we are staying safe and earning high marks for responsible citizenship. But what happens when you see people, whether you know them or not, disregarding the CDC basic guidelines of wearing a mask, frequent hand-washing and maintaining a distance of at least six feet from others? What's the best way to respond?
In short, respond by modeling correct behavior and with calm and respect.
Among family and friends
By now, most people, even doubters, realize the serious nature of the pandemic and follow the CDC guidelines to the best of their ability. Offering some words of encouragement and understanding reinforces your appreciation for their mutual sacrifice. If viewed by doubters, these signs of positivity may have some value for them as well.
Others may have missed the most recent directive (they change depending on many factors) and just need to be informed to encourage compliance. Providing current information in a respectful way and positive tone can help defuse what might be a confrontational situation.
Some people are unfortunately set in their ways and refuse to listen to the reasons why their behavior is unwise for themselves and others. Understand, your only choice in those situations is to literally distance yourself and stay safely away. Remember, the only person you can control is you.
Out and about
You can speak volumes without saying a word with body language. If someone enters within your six-foot zone or is not wearing a mask, take a calm step in the opposite direction. If they move closer as a result, a nod and raised eyebrows might convey your concern. As a last resort, calmly remind them that it's safer for both of you if you wait further apart.
If a conversation is required, think creatively. The quickest way to bond is over a common enemy. Assure the person that you, too, can't wait to have the risks to the lives and livelihoods of you and your family lifted. Empathize with their desire for freedom (from COVID) and humbly explain that you're trying to stay home as much as possible and if you can't stay home, you're staying masked, at a safe distance, and practicing frequent hand-washing.
If presented with the "hoax" argument, step away. An upsetting confrontation is the most likely outcome if you stay to make your point.
More ideas
How to Soothe Ourselves
Simply put, stress depletes our mental and physical reserves. At this time, when reasons to stress-out seem to multiply daily, it's especially important to counter with active steps to unwind and relax.
Helpful resources
HOW TO TALK TO CHILDREN ABOUT COVID-19
Tips for preparing to speak with a child about COVID-19
Before talking to a child, learn about COVID-19 from a reputable source such as the US Centers for Disease Control (CDC) and also get facts about current federal and state recommendations.
Think about when the best time would be to bring up the topic. Ideally, it is a time when children are likely to want to talk such as during dinner.
Remember that every child is unique and will have their own way of processing the information you provide. Increased curiosity, fearfulness, or a lack of care are all normal responses.
Make sure that your conversation is tailored to your child's age and personality. These articles may help: How to Talk with Children about COVID-19 and Tips for Families: Coronavirus.
Tips to help children cope with the information
Remaining calm is important. Children will look to you for cues about how to react. Remind them that how they feel is okay and encourage a hopeful outlook to the future.
Keep to a routine or create new family routines structured around learning, meals, chores, relaxation, and bedtime. This helps children predict what is planned and helps them feel control in situations.
Model behaviors you want your child to adopt such as frequent hand washing, and coughing or sneezing into their elbow or a tissue, etc.
Limit access to news.Constant access to all types of media could heighten fears and expose children to rumors and false information.
Avoid placing blame on a specific people of specific cultural, racial or ethnic groups for the virus.
Seek advice. Remember that the EAP is a resource to help you cope. You can also contact your child's pediatrician or mental health professional for advice.
To further explore this topic, please see the attached printable book and resource list of helpful videos, articles, books and links.
Back to Top
---